Pusser's Rum, British Virgin Islands
Today's Pusser's Rum, known as "the single malt of rum" is still produced in exact accordance with the Admiralty's specifications for rum. Unlike most rums, Pusser's uses no flavouring agents. It is 100% natural. In 2001, Pusser's was awarded the "Gold Medal – World's Premier Dark Rum" at the International Wine & Spirits Festival. In 2003, Pusser's Rum won a "Double Gold Medal" at the San Francisco World Spirits Competition and a Gold Medal at the same festival in 2005.
PREMIUM BOURBON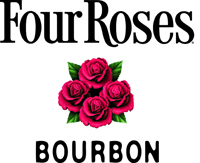 Four Roses Bourbon, Kentucky
Trademarked in 1888, Four Roses is the only Bourbon Distillery that combines 5 proprietary yeast strains with two separate mashbills to produce 10 distinct Bourbon Recipes, each with its own unique character, spiciness and rich fruity flavours. All 10 recipes are married together to create Four Roses Yellow Label Bourbon. Four are married for Four Roses Small Batch Bourbon and only one recipe is hand selected for Four Roses Single Barrel Bourbon.